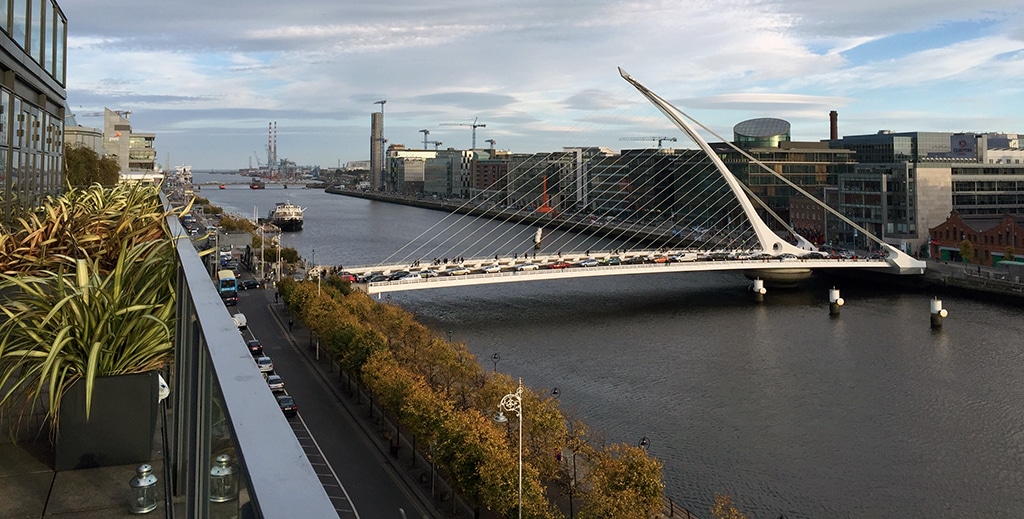 Diamonds and magic at DrupalCon Dublin
The dust has settled, we've recovered from Drupal Flu and had some time to reflect on our experience as DrupalCon Dublin diamond sponsors. It was awesome, no doubt about that!
Ever since Druid was founded four years ago, our principle has been to actively support and give back to the Drupal community. In addition to sponsoring events, we're also among the top 30 code contributors globally.
DrupalCon diamond sponsorship had been on our bucket list since the very beginning, and we wouldn't have been able to do this without the amazing Drupal community. So our biggest thanks go to everyone who has supported, encouraged, and challenged us along the way. It feels incredible that we've come this far in only four years. Believing in our own way of doing things, which may not be the most conventional way, has paid off. Our long-term plan is to expand our foothold outside of Finland, so raising people's awareness of the company at DrupalCon certainly didn't hurt.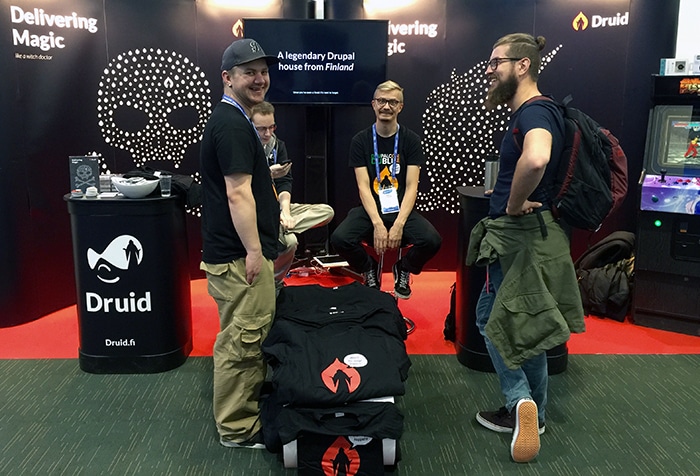 We also want to thank the Drupal Association, Drupal Ireland and the Convention Centre Dublin for a very well organized event. The venue was great, with stunning views over the river Liffey, and the friendly staff made the event all the more delightful.
Our booth at the exhibit hall drew the crowd quite nicely. Whether it was because of the old school arcade games, our much-complimented swag featuring our recently renewed logo, or pure interest towards our doings, we were happy to see the bustle and make new acquaintances. Thanks to all booth visitors for the great chats and laughs!
Content-wise, Druid was represented by Lauri Eskola and Bart Feenstra who both gave two talks at the event. Special thanks go to our kindred spirit Jonna Tiainen who, as the Product Owner of the project, totally rocked our Restel.fi showcase presentation together with Bart. In the showcase, they described how a complex Drupal 8 site was built from an agile project management aspect – from a human aspect, really. Here's the recording:
And here you can check our other presentations:
• Drupal 8 theming in depth by Lauri
• A cautionary tale for defensive programmers by Bart
• Core conversation: Create a new user-facing theme by Lauri
A few of us stayed in Dublin for the sprints which were also very well organized, this time by Rachel Lawson. Bart contributed as a sprint mentor and Druid was one of the sponsors for the sprint mentors' thank-you dinner.
Needless to say, this fun-loving bunch of Druids felt at home in Dublin in the late hours as well. We hosted some (improvised) (after) parties at our penthouse, and were one of the sponsors of the Women in Drupal get together. We also very much appreciated that we could fit into the amazing Trivia Night venue this year!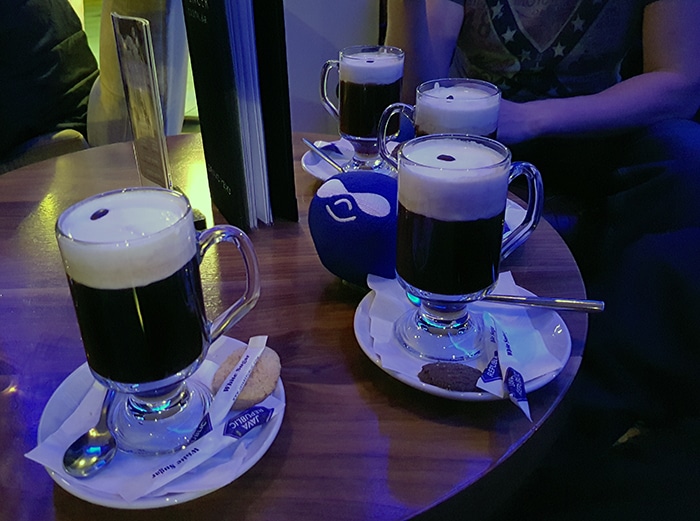 Without underrating the learning and networking aspects, one of the best parts about DrupalCon is that we get to hang out with each other as a team. As most of us are working at customers' premises a few days per week and three of us are permanently abroad, spending time with each other at DrupalCon is pure gold. It wasn't just about bonding over a pint of Guinness – well, mostly, but not only: we also took the time for a full-day internal training before the event officially kicked off.
A great, memorable week with lots of new friends made, old friends caught up with and Druid's magic sprinkled around Dublin. See you in Vienna next year, and hopefully many times before that!