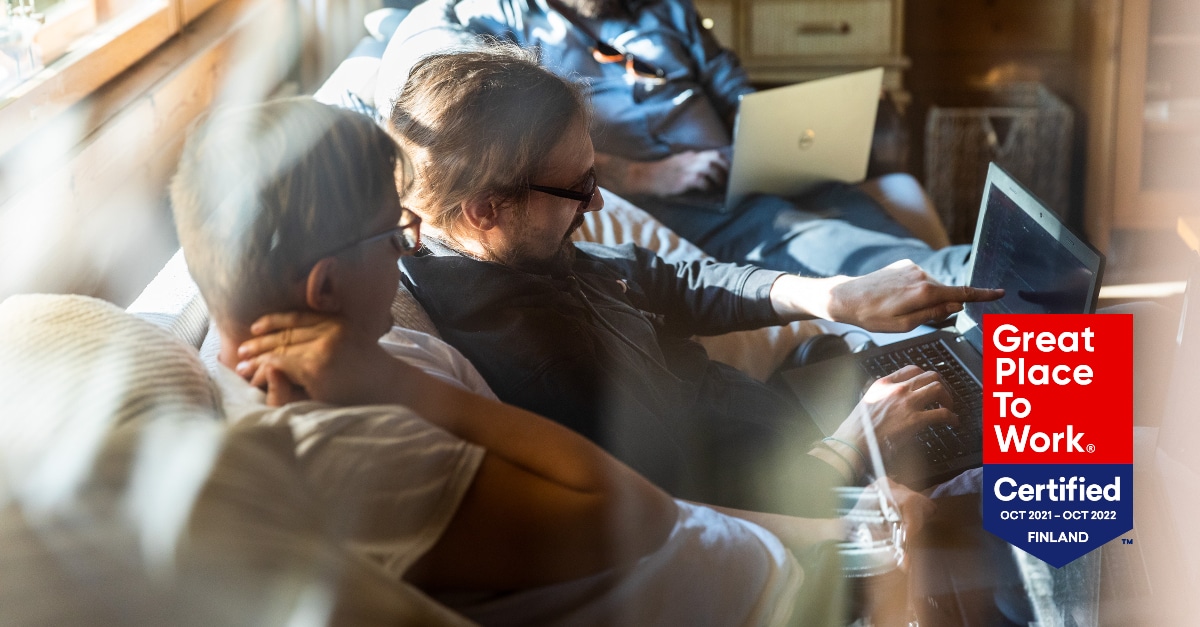 Druid is officially a Great Place to Work
This autumn we decided to conduct the Great Place to Work employee survey to see how we have succeeded in building our culture and what our employee experience is like.
According to the survey, 92% of our people think that overall, Druid is a great place to work. With overall excellent results in the survey, we were granted a Great Place to Work CertificationTM for the upcoming year. We are proud of the results, especially as a GPTW first-timer!
But even more importantly, we really appreciate what we learned about ourselves from the survey, since our goal is to be an even better workplace in the future. This is something that every Druid can have an impact on.
Our biggest strengths as a workplace
According to the survey, our top five strongest areas are Integrity, Justice, Collaboration, Leadership Behaviour, and Caring. But what exactly do the words mean? Let's look at the brief explanations for what these areas measure.
Integrity refers to leadership commitment to high principled standards and the ability to take actions based on these standards.
Justice is about management promoting inclusive behaviour and avoiding discrimination.
Collaboration measures the management's willingness to engage employees in collective efforts.
Leadership behaviour measures people's experience with leaders' behaviour and how it resonates with the company's strategy and values.
Caring measures how managers show an interest in people's wellbeing, how safe and healthy the work environment is and how our benefits support people's wellbeing outside of the workplace.
Furthermore, our strongest individual statements in the survey had to do with people feeling safe at the workplace, being treated fairly regardless of their race, and management being honest and ethical in its business practices. Also, people feel they can easily take time off from work when they think it's necessary.
Management or shared responsibilities?
What is interesting, and perhaps confusing, about our results is that as a flat, self-directed organization we have very little management in the traditional sense. Yet the areas in which we excel are related to management and leadership. So how should we interpret the results?
Yes, of course we have a CEO, but mainly just for legal reasons. We have a CTO who jumps in to help with sales or maintenance whenever needed. We also have project managers who look after the day-to-day activities and project work progress. But leadership and management stretch beyond these permanent roles: a significant amount of our work is done in swarms, sort of contextual hierarchies. Swarm members carry a shared responsibility for reaching the swarm's goal. Anyone can join or leave a swarm at any point.
Swarms are part of our efforts to steer ourselves towards a self-managing Teal organization. We are all responsible for developing our operations and building the best possible workplace for us – it's not "management's" job, it's up to all of us. We believe that this is reflected in the survey results: management and leadership are distributed throughout our organization.
Everyone can make a difference
When Druid was founded in 2012, the five founders had an ambitious principle. They wanted to create the best possible workplace for software developers. The best, of course, means different things to different people, but nevertheless, their purpose was clear: developers first. When developers are happy, everyone wins. The founding principle remains the same still today.
Druid is equal to us Druids, no more and no less. We develop this company together – everyone is welcome to participate and influence. If someone wants to change, improve or develop something, they are allowed to take initiative and action either by setting up a swarm around that topic or by making a decision after seeking advice from others.
We also have room for improvement of course. Thanks to the GPTW survey, we recognize our weak points more clearly and know where to focus next. But all in all, it's reassuring to receive validation that we are on the right path in building a culture and ways of working that are just right for us.
Great Place to Work CertificationTM is a trustworthy and globally valued recognition for excellent employee experience, a high-trust culture, and commitment to building a great workplace.
The Certification is granted by a third party, Great Place to Work®. Our employee experience has been researched with a Trust IndexTM employee survey, and therefore the Certification is based on genuine experiences of our employees.